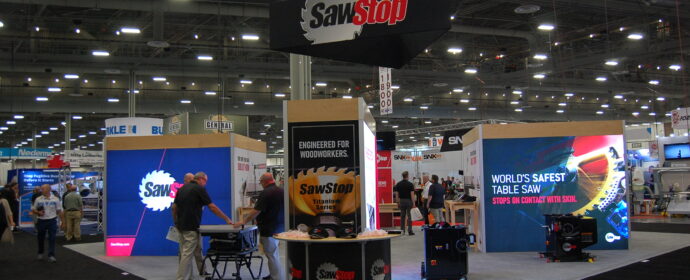 Presenting at an industry event or trade show? You need to know everything you can about your trade show booth options!
Getting to present your brand at an industry or trade show is an enormous opportunity for you to expand your customer base, increase your sales, and boost your profitability. 
But achieving those goals hinges on a few key factors, doesn't it? You need a great product or service (which we assume you have!); charming salespeople who know exactly how to engage with your new and existing customers; useful and imaginative educational and promotional materials; and, last but certainly not least, an unforgettable trade show booth. 
Now, you might wonder, why does my booth matter so much if I have a great product, salespeople, and takeaways? Aren't those other elements the most important things?
Don't get us wrong, there's no question that those elements really matter, but your booth acts as a summation of your brand in the eyes of your customers. It gives them a feeling. It contributes to their perception of your brand. It communicates your message, even if there aren't any words present on it. 
And the best part? You have complete control over how you present yourself to the world. 
Not sure where to start? Then let us tell you a little more about your options.
Custom or modular designs? Which trade show booth is right for you?
When we're working with clients on new trade show booth designs, we'll typically discuss options that fall into two broad categories: custom-engineered trade show booths, or modular-engineered booths.
Here's the difference between the two:
A custom-engineered booth is precisely what the name implies, meaning that we can do virtually anything within the means of your show's footprint, venue specs, and budget in order to present your brand in exactly the way you want to in order to create the ultimate exhibit environment. We'll work with you to create a full CAD rendering, so you'll see exactly how your booth will look in its space. 
Unusual configurations. Breath-taking angles. Eye-catching visuals. Hanging structures. Indoor or outdoor configurations. We've done it all, and would love to discuss a custom-engineered booth design with you for your next show. 
Our custom designs can vary widely, depending on your unique needs. For best durability, we use anodized aluminum framing for many of our designs, and print graphics on high-quality wrinkle-resistant photofabric. 
But if you're looking for something more traditional, or perhaps something you'd like to use at multiple shows for the foreseeable future, we have modular options, too!
Modular-engineered trade show booths, unlike custom designs, use interchangeable parts that can create exhibits of different sizes and configurations, depending on the scale of show you're presenting at. For instance, a 10'x20' size booth can easily be converted to a 10×10 booth with the removal of a few elements.
And that's one of the wonderful things about modular-engineered booth designs! Because one modular display system can accommodate virtually any booth size, they are the ultimate budget-friendly option for companies that regularly attend trade shows, and need a fast, flexible option for a variety of different event footprints. 
These modular-engineered booth designs give a custom, modern feel, without the price of a custom design! 
We offer flexible sizing from 10'x10' up to 80'x80' and beyond, which will give you and your attendees a custom feel in an easy to assemble system! We even offer turn-key kits and rentals, and have solutions featuring aluminum extrusion frames with silicone edge graphics, back-lit graphics, acrylics, and even wood laminate features
These spaces can be as functional as they are beautiful, and can include meeting rooms, storage closets and cabinets, arches, meeting tables, custom counters, or even media towers!
Are you ready for your next trade show? Call Earnest! 
The perception of your brand is too valuable to cut corners on. As a business in the greater Portland area, you really do deserve a partner that can help you with beginning to end design, production, and storage and fulfillment support!
We even offer solutions for promotional materials so you can give your attendees even more reasons to remember you. 
Whether a custom-engineered or modular-engineered booth design is right for you, the Earnest Images team will help you support your brand goals. 
Contact us today. Our team of knowledgeable, no-pressure representatives would be happy to provide you with assistance for all your trade show display needs!