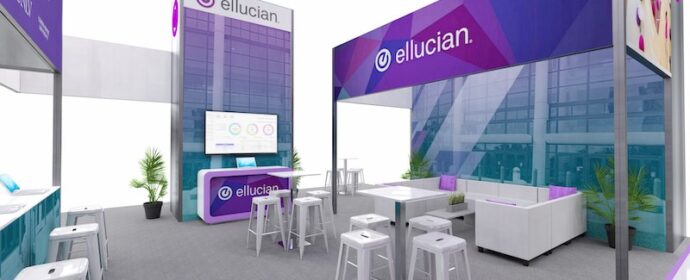 Creating an unforgettable experience for visitors to your trade show booth can be a daunting task. There are innumerable duties that need to be completed before your booth is ready to go. Hiring an exhibit house, like Earnest Images, can take the guesswork out of the design process. 
Plan To Make an Impression 
Once you know that presenting at a trade show is in your brand's future, the planning begins. To make the greatest impact, the planning process for your trade show booth should begin 6-9 months before the actual show — waiting is not an option! 
The pathway to a successful trade show appearance starts with considering the design requirements for your booth and laying out your brand's goals for the particular trade show. When you have an idea of what you want your booth to look like, and what you want to achieve with the design, it's time to submit a request for proposal to an exhibit house like Earnest Images. 
After your proposal is received, Earnest Images will take your vision and create a proposal explaining how to make it a reality. Part of this process includes a detailed breakdown of the cost to make your trade show booth what you want it to be, and for the price you planned on.  
Earnest Images will then work with your brand every step of the way by coordinating the entire design process. During this design process, 3D renderings of your booth will be created. 3D renderings allow you to experience your booth exactly how visitors will experience it–all before it is even built. (More on this later.) 
Throughout the process of designing your brand's booth, Earnest Images will help tackle the "little " things that need to be done to make the trade show successful — planning for the technology used at the venue, shipping the booth to the venue, assembling the booth, dismantling the booth, and storing the booth and its components are all aspects Earnest Images can coordinate. 
Seeing the Future with 3D Renderings 
If you could see the finished trade show booth for your brand before any construction on it even began, wouldn't you want to? Of course! Earnest Images can create a detailed 3D rendering of your booth that will not only let you plan accurately for the space, and show you what your visitors will see, but will also save you money in the long run. 
3D renderings allow you to check the specifics of your booth, and make any possible changes, before spending money on signage or supplies for the construction of the booth. 
There are many more advantages to having a 3D rendering of your brand's booth in addition to being able to see what it will look like, those advantages include: 
Visualizing your booth space from above to see that there is enough space for visitors to your booth to move around. A 3D rendering from above can also ensure the space for the booth has been used effectively. 

Seeing how your booth space will fit in with other booths surrounding it. Should you change the shape or flow of your booth to be more noticeable? 

Checking to make sure the signage on your booth is visible and stands out. Will you need more signage to grab visitor's attention? 

Providing a 3D rendering to the crew assembling the booth as a guide on the day they are putting the booth together. This will ensure that your booth looks exactly as it should when it is put together. 

Allowing for changes to the booth prior to construction to ensure that what you purchase to build the booth is necessary and planned out. 
To protect the investment in your brand's trade show booth, and maximize the impact at the shows where your brand is presented, contact Earnest Images! With detailed, hands-on planning, Earnest Images can make your brand's booth the booth everyone is left talking about! Contact us today for a consultation!