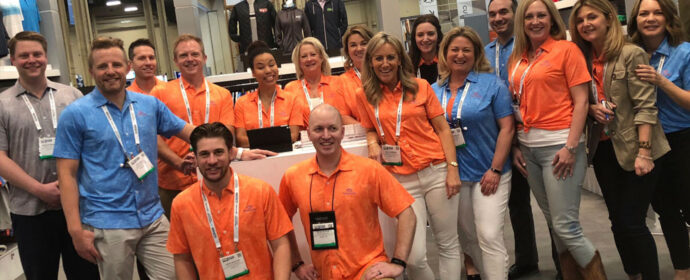 Perception, reflection, impression. Those three words define how a trade show appearance can affect a company's overall trade show performance. The way your staff is perceived by visitors reflects on your brand and leaves a lasting impression! Make the most out of your trade show appearances and invest in branded apparel for your trade show team. 
Trade shows are an opportunity to showcase your brand or company in the best possible light. Networking, building business relationships, attracting new customers, and checking out the competition are all aspects of a successful trade show appearance. Your booth and branding are definitely a top priority, but a close second is how the staff at your trade show booth stands out from the competition.  
Why Is Branded Apparel Important to Consider for a Trade Show? 
Imagine going to a sporting event where a team didn't have on a uniform, or catching a flight where the pilot was dressed in jeans and a ratty t-shirt; you would feel like something was missing, right? You expect a polished look from those in the spotlight in the situations just mentioned, and customers have that same expectation of the teams working the booths at trade shows. Having a consistent look among those working at your booth projects the message that your brand or company is consistent and reliable. 
A company or brand only has a couple of seconds to make a first impression on those walking near or visiting a trade show booth. Having a professional, but approachable, look will impress visitors and make them want to check out what you have to offer. You want your brand or company's message to be remembered, and having a coordinated team image with branded apparel is one way to do that. 
Branded apparel has many other benefits, including: 
Demonstrating a Team Image

: Your trade show booth employees will not only look like a team, but are more likely to act like one if they are dressed alike in branded apparel. When employees wear branded apparel for the company they work for, it inspires a sense of pride and belonging in their role. 
Making your Brand More Competitive:

Competition at trade shows can be intense. Branded apparel can make your company stand out from the rest which is one of the main goals of attending a trade show. 
Advertising Your Company After a Trade Show:

If your company provides branded apparel to visitors of your trade show booth, those visitors will continue to wear the branded apparel and extend the reach of your trade show appearance. Branded apparel can broaden your audience beyond those present at the trade show. 
Options When It Comes to Branded Apparel  
There are a few options to consider when deciding what kind of branded apparel to invest in for your team. The type of industry you work in, the types of trade shows you are appearing at, and your company or brand's overall message will determine what type of apparel you choose. Your choices include: 
Business Formal: This type of business attire isn't the norm for trade shows, but there may be times where a formal business look is beneficial. An evening event after a trade show, a luxury brand show, or a ceremony of some sort may call for business formal attire. This look would not lend itself to branded attire, however having your team looking their best would be the goal. 
Business Casual: This is probably the most popular attire when it comes to trade shows, for both those presenting at trade shows and those visiting one. This doesn't mean jeans, a t-shirt and flip-flops. Business casual means men don't have to wear a tie, and women probably wouldn't wear a skirt. 
This attire lends itself very well to branded apparel for your team. Polo shirts or t-shirts would be the most common, along with khaki or black pants and comfortable shoes. Keeping a consistent look, with a consistent message, will make your team look sharp and knowledgeable. 
Business Professional: This attire sits right in the middle of business formal and business casual. A branded dress shirt would be a great option for this type of attire, along with dress pants, or a skirt. A branded dress shirt is a step up from a t-shirt, but it is still very approachable and looks professional.
How Branded Apparel Affects Your Brand or Company's Message 
Of course the branding and booth design you choose to reflect your company or brand at a trade show is important, but the human component of your booth is just as important. The staff you choose for your booth could be the most engaging, entertaining, and knowledgeable out there, but if they are not dressed well or in-sync, it could be a setback for your brand or company. 
Having your team in a branded shirt with your company's logo is an impactful way to make a great first impression on visitors to your booth. It also shows that your message is aligned throughout the company by having the logo on booth materials as well as clothing. This not only reinforces your brand in the minds of visitors, but shows pride and confidence in your company. 
When your team is wearing a branded piece of apparel, they are your brand–good or bad. You want to make sure that your team knows this and is always representing your brand in a professional manner. No matter where they go, or what they do at a trade show, they are a symbol of your brand or company and its message. 
Want to learn more about how branded apparel can make an impact on your trade show appearance? Reach out to Earnest Images today!