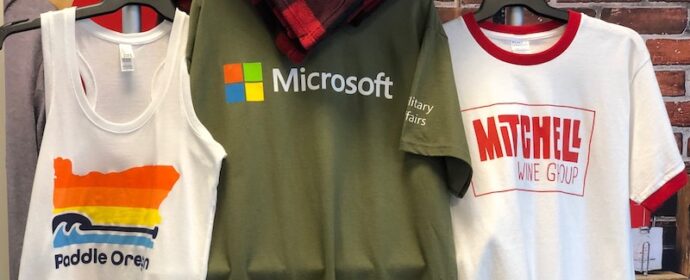 Does my business need branded apparel?
In short, the answer is yes! Why? There are numerous reasons why branded apparel can elevate your Oregon or Washington business's brand, and the first one is visual brand recognition.
If your business has a presence at events, trade shows, or other venues where a unified look for your team would benefit your customers' experience, then branded apparel is the solution. 
Not only does branded apparel in this context simplify the age-old question, "What do I wear?" for your team members, but it also sends a clear message to your intended audience that you are thoughtful, organized, and unified, ultimately instilling a sense of confidence in what your business can do for them. And what does confidence in your brand typically translate into? An increase in your profit.
What's more, if you're attending a particularly well-attended event, branded apparel helps you quite literally stand apart from the competition by creating a visual calling card for your business. 
And speaking of unity, how about team unity? Branded apparel creates a deeper connection between your team members, and can contribute to creating a positive sense of energy that you'll want to have associated with your business at an event.  
Branded apparel is also a great way to excite your customers and event attendees by using it as a promotional tool. People love to receive free swag at events, and a clever or stylishly branded piece of apparel can lead to genuine customer excitement, not to mention opportunities to create brand ambassadors.  
Don't forget, investing in branded apparel is a pretty cost-effective form of marketing for your business. A quality piece of apparel that has a design people love will no doubt be worn over and over again, with countless eyeballs seeing your brand at its core. It's a no-brainer!
Just think, at certain shows you might even be able to create a buzz about your brand by offering limited quantities of branded merchandise via raffles, giveaways, or other promotional opportunities. 
Important things you need to know about branded apparel
Don't delay!
Every trade show team needs branded apparel prior to their events, so make certain that you're working with a trusted vendor to ensure that you're getting quality apparel you want to represent your brand in a timely fashion. 
Also, you'll want to ensure that you're receiving accurate printing for whatever graphics or embroidery you're having added to the items, and that the fit is accurate. Ill-fitting or poorly printed apparel can have a negative impact on your brand's perception, so Earnest Images works with local printing and embroidery partners to guarantee top-quality results. 
We also can provide custom graphic design services to help bring your dream apparel to life, truly helping you stand out from the crowd! 
If your business has or is working with a trade show or event coordinator responsible for securing display assets for live or virtual events, our team can partner with them to help you fulfill your branded apparel needs. 
Think beyond shirts when it comes to branded apparel
At Earnest Images, we consider ourselves a one-stop shop for trade show and event managers because not only do we work with a wide array of vendors in the display and promotional products spaces, but we also work closely with hundreds of popular clothing brands in order to provide you with thousands of branded apparel options, including many styles of shirts, sweatshirts, jackets, hats, and more. 
Our motto is that Earnest Images can handle any promotional apparel item that can be branded, and we love branding new or unusual items, as well as helping our customers come up with unique and exciting ways to promote their brands at trade shows, industry events, product launches, in-store promotions, and more. 
Find a partner you can trust
We love to help our customers in the Pacific Northwest build their brands, no matter what their industry, because they keep our work fresh and exciting. Our commitment to each and every one of them lies in creating the highest quality products at the most competitive prices, so that they can engage their customers in exactly the right way. 
If you're looking for a partner who can help you with branded apparel, promotional products, event displays, storage, shipping, fulfillment, and more, then contact Earnest Images today. We'd love to help you grow your brand!