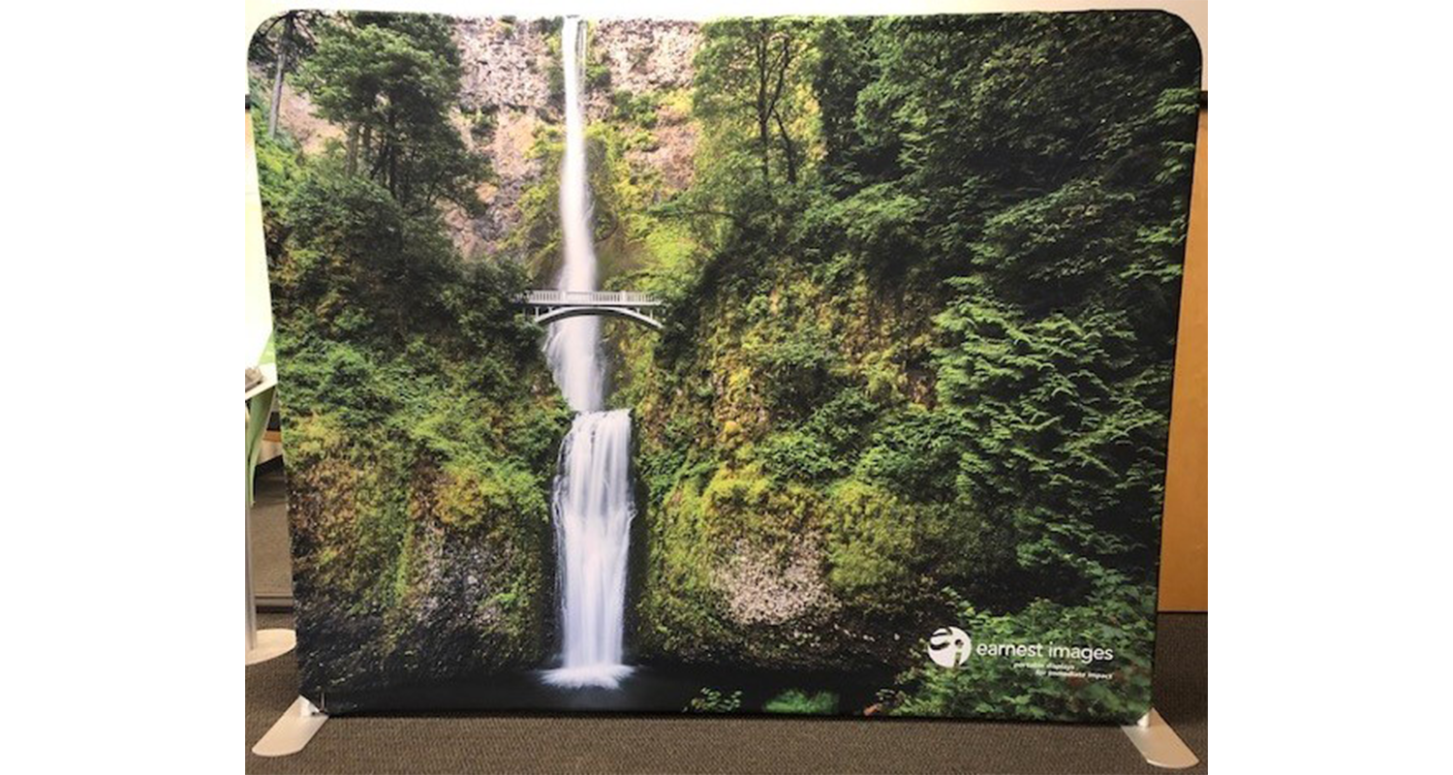 Dye Sublimation Graphics — What are they? 
Dye Sublimation is a digital printing process that uses heat to directly transfer images onto the material being printed while the ink is in a gaseous state. This means that once the ink hits the material it is being printed on, it quickly turns solid and leaves behind a full color image. 
It's a highly accurate printing technique, and is the perfect application for those looking to more accurately showcase their brands in their live event and trade show materials. 
The Endless Benefits of Using Dye Sublimation Graphics for Fabric Printing
If super high-quality graphics are your goal, then using Dye Sublimation Graphics on your fabric signage is the approach we recommend. Your signage will consist of the most clear, most impressive, most striking graphics possible. 
Using this process on fabric printing is also a fiscally wise one, because fabric displays weigh much less than their hard panel counterparts often do, so they cost less to ship and take less time to set up. 
Another reason that we love Dye Sublimation Fabric displays is that they're relatively easy to keep looking their best — simply spot clean them when needed, pack and store them per the recommended process, and your graphics should retain their crisp, impressive look for a good period of time. 
What's more, Dye Sublimation fabric printing also allows for your signage to be displayed vertically, which can be difficult with hard panel displays. The fabric displays can be shaped and positioned in ways impossible for hard panel displays, thus making your fabric graphics pop out from the competition. 
Making an impact with your graphics is important to your brand. Using Dye Sublimation graphics on your fabric displays is the way to ensure that your brand is seen. 
Dye Sublimation Fabric Graphics vs. Hard Panel Display Graphics 
High-quality Dye Sublimation fabric display graphics outpace the old hard panel display graphics in most every way. 
One major benefit of fabric display panels is that they are less prone to damage than hard panel displays. For the uninitiated, hard panel displays can sometimes be clumsy and require careful attention when handling. Conversely, fabric display panels are lightweight, easy to move, and require far fewer handlers. Unpack it. Display it. Tell your brand's story. It really is that easy. 
So why can't you have the largest, most lifelike graphic display possible? Dye Sublimation printed fabric displays allow you to answer this question with a resounding, "Yes, you can!" when you need to make the biggest brand impact possible.  
Another way to make your Dye Sublimation fabric display graphics help you stand out is through the power of strategically placed lighting. 
Fabric displays, unlike most hard panel displays, allow the light to shine through, which can set a specific mood, deliberately highlight a particular part of the display, or even bring your display to life by adding motion lighting to create a sense of movement. 
These are just some of the dynamic techniques we can help you incorporate into your Dye Sublimation-based displays that many hard panel options just can't provide. 
Is the Investment in Dye Sublimation Fabric Displays worth it? 
The answer is a resounding yes. Dye Sublimation fabric displays allow your company to customize its display with authentic, realistic, eye-catching graphics that cannot be replicated on hard panel displays. Fabric displays are durable, versatile, easy to pack, and the graphics are often more durable in this format. 
Dye Sublimation fabric displays are also easy to switch out and easy to store, making them a preferred choice over hard panel displays that are more difficult to update, and without the right resources, more difficult to store. 
Investing in high-quality Dye Sublimation fabric displays allows your company to stand out at trade shows or wherever the displays are placed. Dye Sublimation fabric displays push your brand to the center of attention and allow you to enjoy the recognition. 
At Earnest Images, we specialize in helping brands in the Portland area and beyond bring their most meaningful brand attributes to life so their customers can better understand and feel their values in action. 
To learn more about how Earnest Images can help you bring your signage needs to the next level with Dye Sublimation fabric displays, contact us today for a consultation! We look forward to speaking with you!