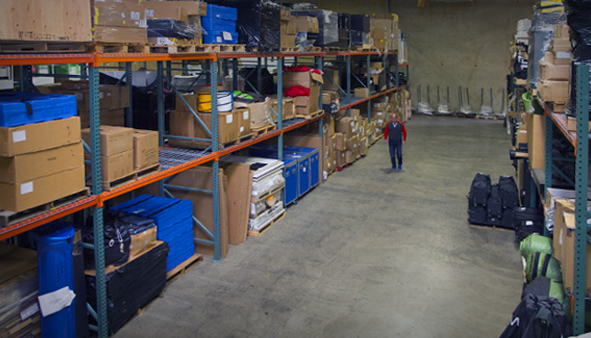 Trade show and event displays are more important than ever
Despite the many challenges that COVID-19 created for companies that rely on live events like industry and consumer facing trade shows, portable, modular, and custom displays have become more important than ever to brands that want to put their unique message in front of their existing and potential customers.
Why? Because not only are these trade show expos coming back in a big way, giving just about every brand a unique opportunity to reintroduce themselves to the world, but many companies have been reassessing what the concept of "office" means. 
Now that so many companies have learned that remote work is not only possible, but is preferable to many employees, scores of organizations have begun to consolidate their office space, reduce the footprint they're responsible for, and expand the boundary of the workforce available to them. 
With less physical space for storage and a workforce spread all across the country, more and more clients are taking advantage of a service we've proudly provided for years: storage and fulfillment of trade show displays and event marketing assets.
What's included in our Storage and Fulfillment service
A comprehensive storage and fulfillment service is what you deserve, and that's exactly what the Earnest Images team provides. You'll receive secure, expertly managed storage of your displays, which we'll inventory for your convenience on a monthly basis. 
Once we have your trade show assets in our care, we'll give them a thorough inspection to ensure that there's an agreed upon understanding of their condition. Once that understanding has been met, we'll carefully store the items, add them to our inventory database, and pull them upon request so that they can be used when and where you need them. 
Through our trusted shipping partners, we'll arrange the shipping, the return, as well as assist in forwarding of any logistics needed for your display materials. 
Additional services can be offered with your Storage and Fulfillment agreement including Inspections, Cleaning, Rush Shipping, Graphics Updates, Packaging, and more. 
Why clients love our Storage and Fulfillment services
Even in pre-pandemic times, most businesses don't have the space or the resources to manage their trade show materials. More often than not, these responsibilities fall to people who are focused on other tasks, and all too often find out at the last minute that their event displays are damaged, dirty, or no longer represent their business's current brand characteristics.
They find themselves scrambling to make updates, which is not only costly to the organization, but also uses up valuable time that could be spent on other projects. What's more, shipping and logistics for event materials can be incredibly confusing and expensive. 
At Earnest Images, we deal with these sorts of things every day, and not only do we have trusted partners all over the world, but we specialize in the organization, management, and distribution of event assets and trade show displays. 
Our warehouse services may include a web based item ordering site, inventory control and reporting, shipping and fulfillment, inspection, display cleaning and/or laundering, artwork updates, hardware repair or replacement, and logistical support to ensure that your onsite event teams deliver the best brand experience possible to your audience.
Our commitment to quality is a commitment to your brand
There's a reason why global brands like Nike, Microsoft, and Intel trust Earnest Images with their display and event marketing needs. It's our commitment to understanding the unique goals of every event and marketing opportunity that our work will be displayed in.   
No matter who we're working with, we strive to deliver the highest quality products so that they can feel confident in knowing their audience will have the exact brand experience they're intending to deliver. 
Our materials are top-notch, design is second to none, and our services just can't be beat. If you're in need of Storage and Fulfillment for your trade show and event materials, or if you're interested in creating all-new marketing assets for your brand, contact Earnest Images today. We'd be happy to help you!